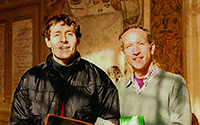 Go to: More about this picture
Paul Monette and Roger Horwitz were committed to bringing about an end to homophobia both through their individual activities and through their union.
Roger Horwitz wrote poetry in his student years and received his undergraduate degree from Brandeis University, where he was a member of Phi Beta Kappa. His first jobs were in France teaching English and then working for the publishers Larousse and Gallimard. He received his Ph.D in comparative literature from Harvard University in 1972, writing his dissertation on French novelist Henri Thomas as he also began Harvard Law School. He received his law degree in 1973.
Paul Monette was an honors student at Phillips Academy in Andover, MA and received his undergraduate degree in English from Yale in 1967, where he was Class Poet. Monette and Horwitz met September 4, 1974 in Boston, during the middle years of gay liberation. As he described their introduction in Becoming a Man: Half a Life Story (1992), Paul Monette said to Roger Horwitz, "Say hello to the rest of your life."
Paul and Roger moved to Los Angeles in November 1977, and both men were associated strongly with the LGBT activities of that city until their deaths. Horwitz worked as a corporate attorney, then founded his own practice with clients such as the Downtown Women's Center. He succumbed to AIDS in 1986. After Roger's death, Monette did the writing and activism for which he will remain known, capturing in his verse, fiction, non-fiction, fable, and public speaking appearances, the hopes, dreams, and rage of an entire generation.
Before his own death from AIDS in 1995, Monette established the Monette-Horwitz Trust to ensure the continued fruits of their activism as well as the memory of their loving partnership.
The Monette-Horwitz Trust provides annual awards to individuals of diverse cultural backgrounds, genders, and sexual orientations who are, through their work, making significant contributions to eradicating homophobia. The Trust acknowledges the accomplishments of organizations and persons working in arenas ranging from academic research and creative expression to activism and community organizing.
Following Monette's instructions, there are no applications for these awards. Recommendations are given by an Advisory Committee to Monette's appointed Trustee, his brother Robert L. Monette.